Die-cutting machine / Cutting machine / Kiss-cutting machine
Materials that can be cut out with a punch
Wooden net or forged type tools allow you to cut a wide range of materials in different fields of activities. Cardboard, PVC and foam in the field of packaging. Carpet, PVC coverings, rubber coverings and cork in the field of flooring. Soft plastics, felt, rubber, foam, cork and elastomers in the industrial field. Fabric and leather in the field of clothing. Leather, imitation leather and canvas in the field of leather goods and footwear
The different types of dies
There are 3 main die families…
The forged die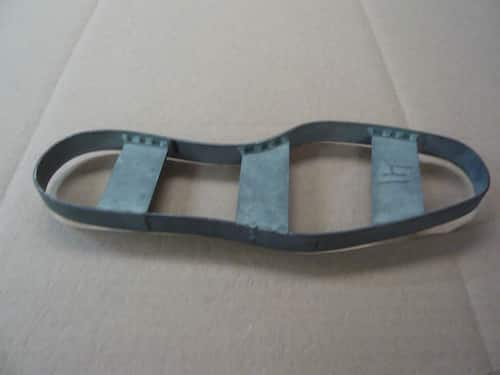 The wooden net die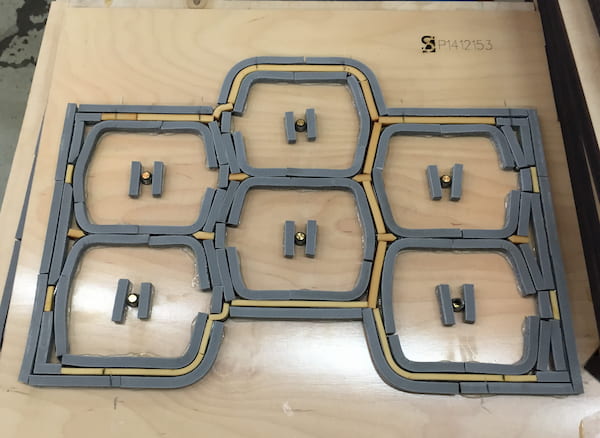 The machined tool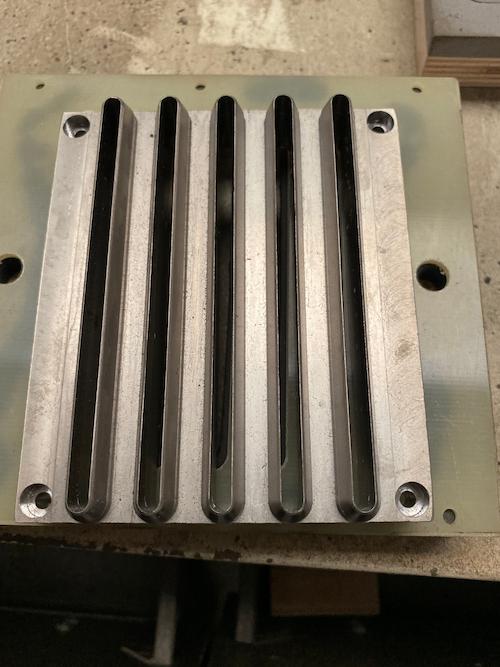 Forged tools are used to cut very hard materials
The wooden net tools (the most common) are designed from a holder (Wood, Lexan, Plexiglas) in which the cut-out shape is produced using a laser, for example. Then the blade is formed and inserted into the holder. Ejection foam is added if necessary.
Machined tools are more expensive and reserved for specific productions which require great precision, for example.
The die-cut: advantages
Die-cutting is a method for cutting multifaceted products using tools (dies) made, most often, of hardened steel. This material has the particularity of lasting over time, of not deforming during compression and therefore, guarantees a precise result. The dies can withstand a fast production rhythm and can be used on hydraulic presses or mechanical presses. They are ideal for mass production for example. It is possible to also use this type of tool with a manual press. In addition to their extended lifetimes, dies also have the advantage of being cheap and available on relatively short notice. Many companies are producing this type of tool.
In the industrial sector, dies are mainly used in:
Cutting of flexible materials: rubber, foam, carpet, gasket, plastic, textile, plastics, paper, etc.
The packaging sector: cardboard, thermoformed shell, plastics, paper …
The leather sector: leather goods, saddlery, shoes
Which machine to use?
Dies can be used with different types of machine and for different types of products depending on the need, the rates, and the desired production mode (manual, semi-automatic or automatic). Manual presses for manual production of very small series. Swing arm cutting presses for small series or prototypes are the ideal machines. Traveling head die-cutting presses for economical production from sheets or rolls. This machine model can be equipped with unwinders or material infeed system. Receding head presses with cutting formats from 1000x500mm to 3000x3000mm and a cutting power from 25 to 500 tons, allowing all materials to be cut quickly and easily. A large number of options can be fitted to this machine model. Movable beam presses for mass production in automatic mode. Mechanical presses when the volumes to be cut are important, this model of machines can reach speeds ranging from 20 to 180 cuts per minute. And last but not least, the rotary die-cutting machines designed for very large volumes to cut from rolls.
What is the « kiss cut » application?
The "Kiss cut" is to be distinguished from the complete cut. Indeed, the latter's purpose is to completely cut out the material and if it is present, the support which is on the back of this material (adhesive for example). After cutting, the parts are completely separated from the scrap.
The « kiss cut » application, for its part, has the characteristic of cutting only the material itself. The support (adhesive for example) is therefore not being cut during the process. By removing the scrap after cutting (weeding) we have the parts on the support. Just like complete cutting, « kiss- cutting » can be carried out either by hydraulic presses, mechanical presses or even rotary die-cutting machines.