Leather work of general goods and footwear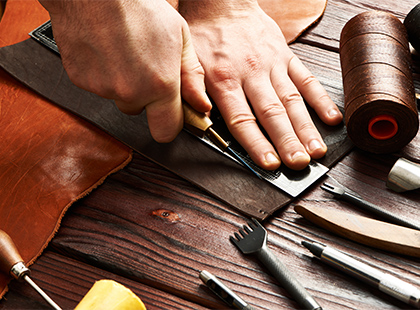 For many years now, Suteau-Anver has worked with many loyal customers in the leather goods sector, as well as with professionals from the saddlery and footwear sectors.
Always receptive to both their expectations and their requirements when handling "luxury" product materials of high quality, we have developed and mastered our own manufacturing techniques and processes:
Cutting
Preparation
Gluing
Shaping
Applying accessories and stitching
Riveting
Finishing-colouring
Buffing-brushing
Etc.
All these processes have been made possible thanks to our Design Department, based in our Maine-et-Loire headquarters. It is here that our cutting presses and thermoforming machines are designed, as well as our riveting, gluing and colouring machines, and so on.
Since technical skills are needed for working with leather, but most especially in-depth knowledge of the material and converting processes, we have a dedicated team focused on this area of business. Our experienced team is able to advise you about exactly what you need to use, based on your actual requirements. This team is available to discuss your project with you so that you can get your future production tool designed.
Leatherworking Machines for Footwear and Leather Goods