Mechanical kiss cutting press – Model 110/120/135/150/180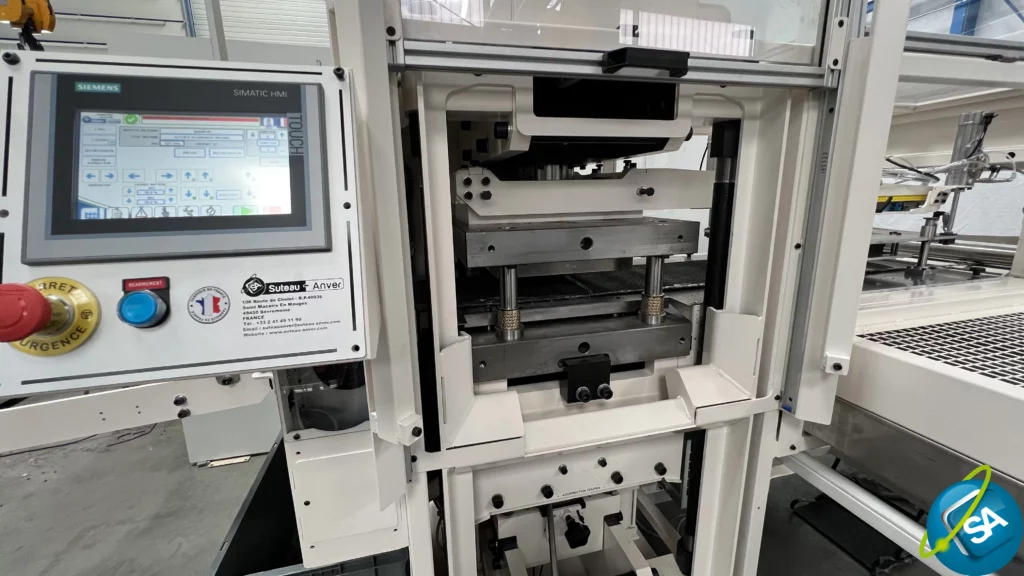 SUTEAU-ANVER designs and manufactures an entire range of automatic cutting presses with slider.
Ranging from a single machine to the complete line your rolls or sheets of soft material can be fully or half cut, cut into strips, trimmed and your soft materials unwound and re-wound.

Depending on your rate of feed, this type of machine allows you to achieve up to 180 cuts a minute, given that, for example, one cut may represent twenty or so imprints (depending on the dimensions of the dies and the machine's cutting power).

We look after the entire process and setting up your machinery so that you can produce your products with an extremely high throughput and under the best possible conditions.
The structure of the machine is composed of a welded gap frame
The moving upper plate is driven by a system of connecting rods and cranks linked to a geared motor. All the articulations are guarded and mounted on bearings
The machine is delivered with a metal sheet to support the cutting die (the die is fixed to this metal sheet by screws). This metal sheet is positioned and clamped onto the upper plate by a hand-locking dovetail
The lower plate is fitted with a nut and bold system to adjust the point of cut. The height is precisely adjustable to easily kiss cut. This plate supports the metal bolster plate which is easily replaceable
On each side of the plates is a pair of rollers which advance the material between two cuts. These rollers are powered by brushless motor ensuring great dynamism and great accuracy of step. The on and off commands can be issued independently from the control desk. This makes it possible to work by pushing or pulling the material
On each side of the table is also a system for guiding and positioning the material within the cutting area
At the entrance to the press a set of variable tension rolls can also be used to guide the material
The machine is programmed (step of advance, acceleration, deceleration, number of cuts per stroke, etc.) and adjusted and the manual functions are set by user-friendly digital controls. This digital control can store 999 production programs
The machine complies with current safety standards
A large amount of equipment and options means the machine can be adapted to your needs
Technical features
Power from 10 to 50 tons
Stroke of the upper plate 61 mm fixed
Working area from 250 X 350 mm to 600 x 600 mm
Maxi rate 180 strokes/mn for a step of less than 50 mm and 130 strokes/mn for step from 50 to 400 mm
Min. rate 60 strokes/mn
Mechanical accuracy of advance +/- 0,1 mm
Manual adjustment of the cut accurate to 0,01 mm
Double roller feed up line and down line of the cutting area with pneumatic opening
Electrical power from 7 to 20 Kw
Useful working area and cutting power :
350 x 350 mm en 10 tons
400 x 400 mm en 20 tons
500 x 500 mm en 20 tons
400 x 400 mm en 35 tons
500 x 500 mm en 35 tons
600 x 600 mm en 35 tons
400 x 400 mm en 50 tons
500 x 500 mm en 50 tons
600 x 600 mm en 50 tons
Options
Upline peripherals : rewinder, unwinder, laminating stand, sheet feeder, etc.
Downline peripherals : knock-out, kiss-cutting, slitting unit, rewinder, cross cutting, etc.
Available versions