Rotary die-cutting machine for cut through and kiss cut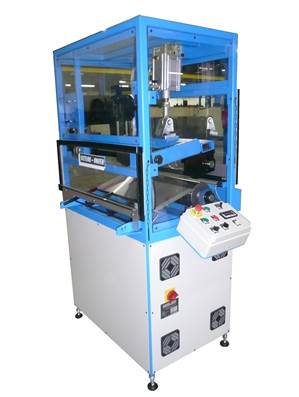 Our range of rotating kiss cutting machines is perfectly suited to cutting soft materials with a high throughput. As both the designer and manufacturer, SUTEAU-ANVER supplies compact, sturdy, easy-to-use machines that are specially designed for all your requirements.
The rotating die is designed in collaboration with specialist die-makers and tested using your materials in rolls.
Technical features
Rotating die maxi width 600 mm with input guiding
Very quick system for fitting or unfitting the tools
Adjustement of the cutting position with manual micro screw or by pressure
Output guiding part after cutting
Asynchronous motor
Adjustable speed from 0 to 500 rpm
The number of imprints that can be cut in one revolution will depend on the shape of the imprints and the constraints of the die-maker
Control cabinet with speed variator, console and safety guards
Machine with safety guards in « altuglass », sliding door
Machine weight 600 kgs
Electric power 5 KW
Options
With the servomotor, the number of imprints cut per line can be counted on the die.
Available versions