Receding head die cutting press – Model XPM
This receding head die cutting press designed and manufactured by SUTEAU-ANVER is solidly-built, accurate and silent, and specially designed for cutting any non-metallic materials, depends on its built-in hydraulics.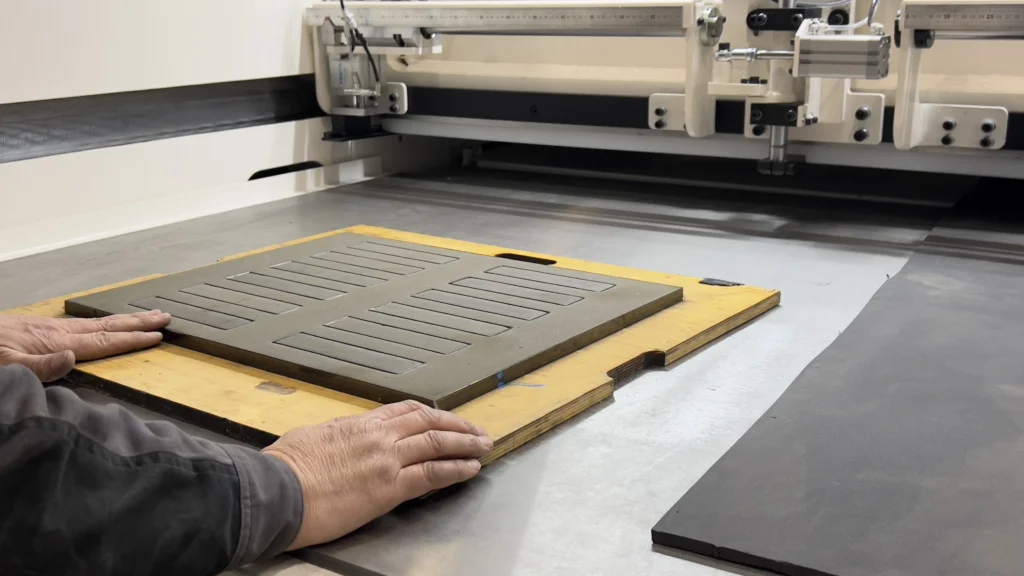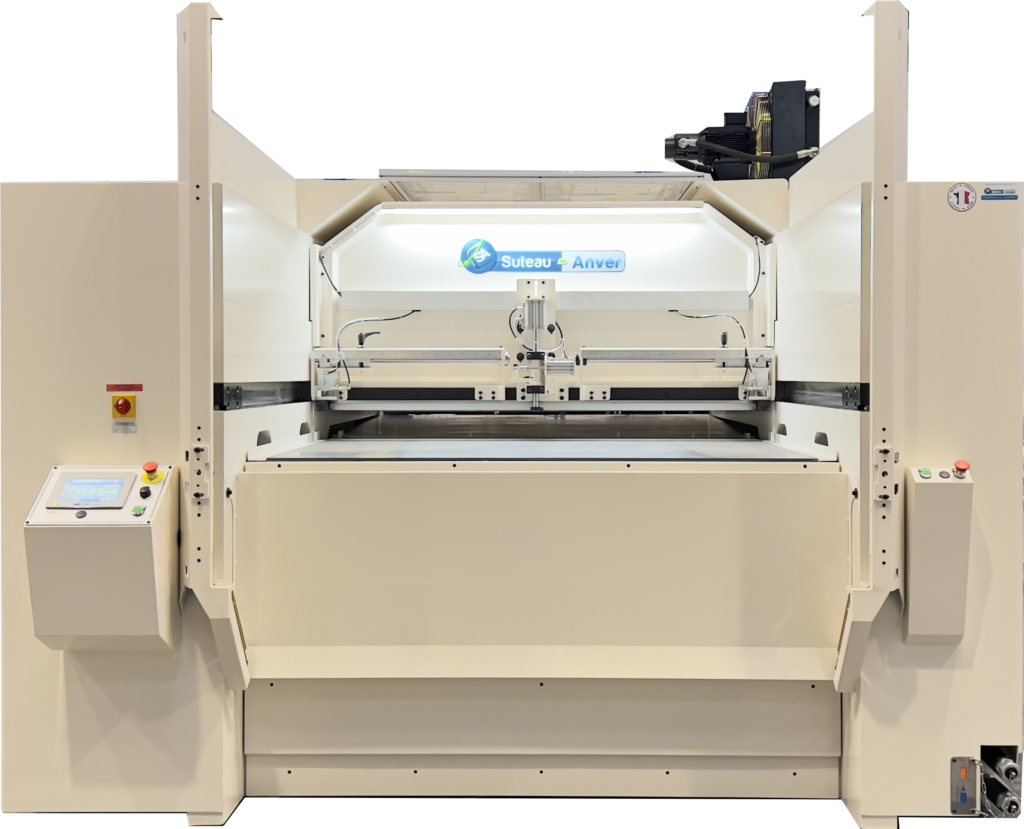 A horizontal moving beam moves forwards and back for each cut, driven by an electric geared motor, leaving the entire cutting area free and enabling the operator to position his die and remove the cut-outs.
If required, the die can be attached to the face of the beam and in that case, the operator collects only the cut out pieces. In other words, on this machine, the counterpunches can be situated either on the beam or on the rising table.
The return distance of the beam is adjustable on the tactile screen in increments of 100 mm (parametrable). The table rises vertically to meet the beam when the beam is in the forward position. This table applies the pressure, moved by two or four hydraulic cylinders beneath the table which apply balanced pressure at two or four points. This ensures that the table remains strictly parallel to the beam, wherever the cutting force is applied.
Our patented oil injection system operates through a main cylinder with check valves into the 2 or 4 table cylinders.
There is an EC certified cell barrier to ensure the machine's safety system at the front, and guards at the back.
It is used for cutting soft materials with one or more thicknesses into rolls or sheets up to a width of 3000 mm.
Fields of application :
Synthetics
Textiles
Leather
Gaskets
Foam materials
Plastics
Carpet
Felt
Rubber
Etc.
The material can either be fed in from the front or from the back by, for example, using a double roller material feed.
The work area is completely protected with accessibility at the front for greater proximity to the material.
Technical features
Useful cutting power :
from 80 T to 300 Tons
Speed of the beam, forward and back :
52 m/mn
Accuracy of beam stop :
+/-5 mm
Stroke adjustable :
20 to 120 mm (220 mm in option)
Speed of cut :
22 mm/s not adjustable
Opening between table and beam
(without die and without block) :
40 to 160 mm (250 mm in option)
Height of the work surface :
940 mm
Cutting power :
Range 2 cylinders : Working areas (mm) and powers (other working areas and other powers on request)
1600 X 800 – 80T and 100T
1600 X 900 – 80T and 100T
2000 X 800 – 80T and 100T
2000 X 900 – 80T and 100T
2400 X 800 – 80T and 100T
2400 X 900 – 80T and 100T
Range 4 cylinders  Working areas (mm) and powers (other working areas and other powers on request)
1600 X 900 – 130T/150T/200T/250T/300T
1600 X 1200 – 130T/150T/200T/250T/300T
1600 X 1500 – 130T/150T/200T/250T/300T
2000 X 900 – 130T/150T/200T/250T/300T
2000 X 1200 – 130T/150T/200T/250T/300T
2000 X 1500 – 130T/150T/200T/250T/300T
2000 X 2000 – 130T/150T/200T/250T/300T
2000 X 2500 – 130T/150T/200T/250T/300T
2400 X 900 – 130T/150T/200T/250T/300T
2400 X 1200 – 130T/150T/200T/250T/300T
2400 X 1500 – 130T/150T/200T/250T/300T
Options
Material drawn through by double roller
Material feed by pincers
Roller-holder (from 1 to 8 rollers or more on request)
Mechanical posi-stops (on machine with 2 and 4 cylinders)
System allowing to maintain the pressure (allowing to make thermocompression)
Servo-motor on the beam allowing to obtain in front of an accuracy +/- 0.2 mm
Block rotation system
Cutting on rectified tempered steel plate (with mechanical posi-stops)
Heating plate
Dimmable lighting
Die-holder above the beam
Die-holder under the beam
Machine without front cover
Telemaintenance
Designer version
Painting according to RAL colour
Available versions