Embossing / Cutting / Overcutting machine – Model BT4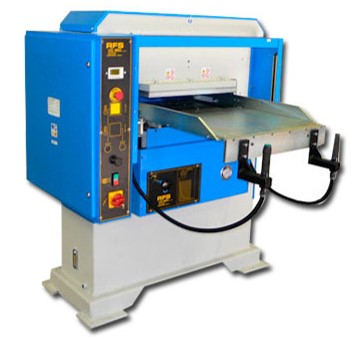 This hydraulic press is an extremely versatile machine with a power of 90 tons to 180 tons, depending on the version. It allows you to make embossing, cutting, overcutting and marking with great accuracy and power.
The pressure central hydraulic cylinder has a high capacity and the mechanical stop allows to control accurately the depth of the embossing, cutting and marking.
Fields of activity:
The leathergoods where this type of machine is in production for several decades
The industry where the accuracy of the cutting on steel plate is appreciated
Cutting or material overcutting is realized on polypropylene, on aluminium, on blue plate or on rectified steel.

The working cycle is automatic and programmable (temperature/fitting time).

Technical features
Useful power from 90 to 180 tons adjustable
Useful area from 500×450 mm to 1000x800mm
Opening 75 mm
Stroke 75 mm
Inward automatic carriage with adjustable speed
With or without mechanical stop
With or without plate with automatic opening
With or without plate die-holder on upper part
With or without heating in lower and upper parts (maxi 190°)
Plating temporization
Counter
Parameter display
Mechanical protection in front side or cells
Options
Feeding material with rollers
Holder-rollers
Available versions
BT4/2 – 90 Tons    500x450mm
BT4/2 – 120 Tons   500x450mm
BT4/3 – 120 Tons   600x500mm
BT4/4 – 180 Tons   700x600mm
BT4/4 – 180 Tons   1000x800mm
Machine also available sizes on request according to your needs.