Receding head cutting press – Model PTMV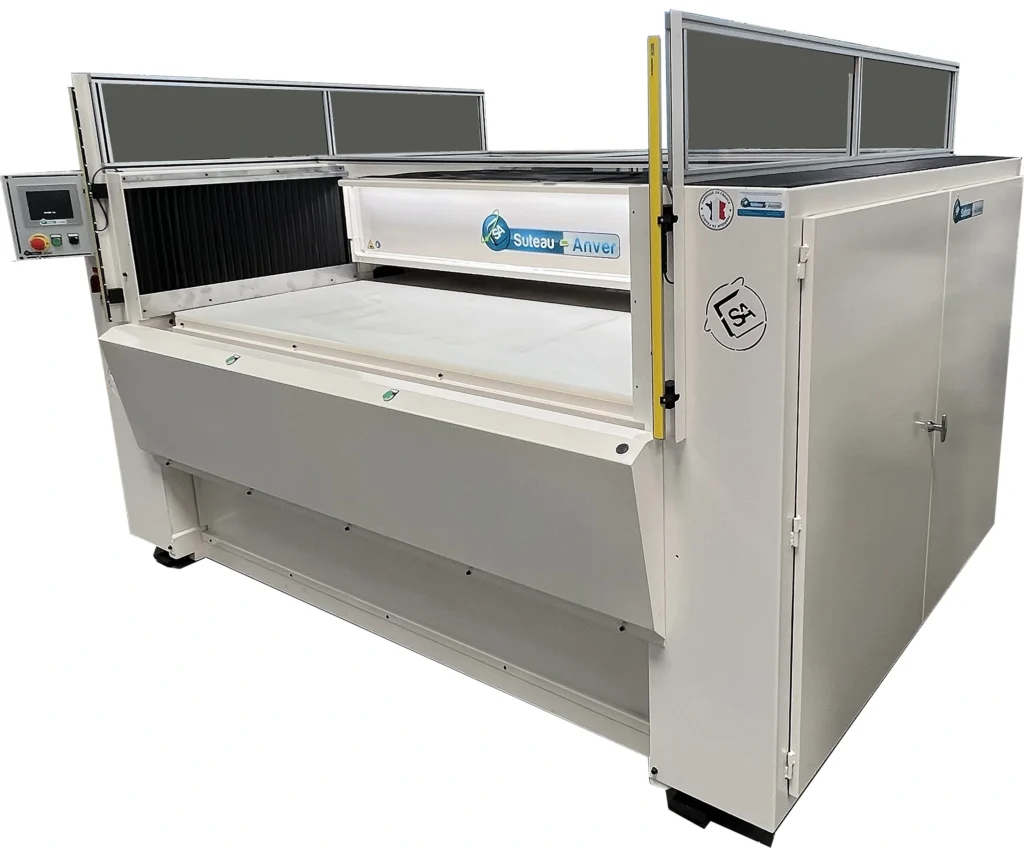 This extreme efficiency of this solidly-built press, specially designed for cutting any non-metallic material, depends on its built-in hydraulics.

A horizontal moving beam moves forwards and back for each cut on a hydraulic cylinder, leaving the entire cutting area free and enabling the operator to position his die and remove the cut-outs. As an option, if required, the die can be attached to the face of the beam and in that case the operator collects only the cut out pieces. In other words, on this machine, the counterpunches can be situated either on the beam or on the rising table.
The return distance of the beam is adjustable on the tactile screen in increments of 100 mm (parametrable). The table rises vertically to meet the beam when the beam is in the forward position.
Easy to use thanks to its touch-screen interface this receding head cutting press guarantees productivity, efficiency, minimum maintenance and safety for your production operators.


Technical features
Electrical energy :
400 Volts three-phase + Neutral + Earth 50hz
Speed of the beam, forward and back :
56 m/mn
Accuracy of beam stop :
+/-10 mm
Speed of approach :
167 mm/s not adjustable
Speed of cut :
22 mm/s not adjustable
Speed of opening :
198 mm/s not adjustable
Stroke :
70 mm
Daylight between table and beam
(without die and without block) :
110 mm without block
Height of work surface :
940 mm
Useful working area and cutting power :
1000×500 mm in 25 tons
1600×600 mm in 40 tons
2000×800 mm in 70 tons
2000×900 mm in 100 tons
Options
Material drawn by double-roller
Material feed with pincers
Roller-holder (from 1 to 8 rollers or more on request)
Programmed forward feed for a length of material using pedal control
Dimmable lighting
Die-holder above the beam
Die-holder under the beam
Machine without front cover
3 Pre-recorded cutting correction options
Soundproofing
Painting according to RAL colour
Available versions
Available in an EC standard / three phase.