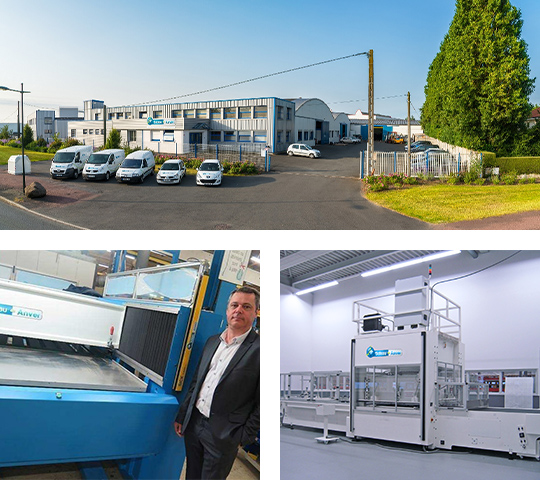 Die-cutting and converting presses for soft materials
In France and worldwide since 1947
Since 1947, Suteau-Anver designs and manufactures hydraulic and mechanical cutting presses. They are made for industries working non-metallic and composite materials (carpet, foam, gasket, rubber, cardboard, leather, textile, composite, carbon, Kevlar…). We also manufacture special machines such as laminating machines for various environnments, in particular for automotive industry, leather goods and footwear.
To be at the cutting edge of technology, we ensure the distributing of cutting tables with oscillating blades for flexible materials and composites up to 120 mm thick.
Click here for more information
As specialists in the design and manufacturing of cutting and processing machines for rubber, cardboard, leather, felt, insulation, seals, cork, carpet, foam, paper, plastic, PVC, flooring, synthetic materials, and textiles, we passionately dedicate ourselves to pushing the boundaries.
Our expertise spans a wide range of materials, and we take pride in crafting cutting-edge machines tailored to your specific industry needs. Whether you operate in leather production, flooring manufacturing, or textile processing, our custom solutions are designed to optimize your productivity and ensure outstanding results.
Innovation is at the core of everything we do. Our seasoned engineers are continuously developing state-of-the-art technologies, providing you with cutting and processing machines that lead the industry. With our commitment to quality, durability, and performance, we take pride in contributing to the ongoing success of our clients.
Explore our comprehensive range of specialized machines and discover how our expertise can revolutionize your production process.