The Company
Who are we ?
Suteau-Anver has a workforce of 60 employees and a €8.3 million turnover. Suteau-Anver has a sales network across France and uses agents in Europe; a Design Department that includes 7 project engineers and 3 automation engineers; an assembly workshop and an after sales department with 14 technicians who have vehicles and can respond within 24/48 hours to customers based both in Europe and across the world.
In 2005, aiming to diversify its markets and increase its turnover, SUTEAU-ANVER set up a new structure which specializes in manufacturing machines for the food processing industry: OUEST AGRO TECHNOLOGIE (OAT). Today OAT has 9 employees and a €1.7 million turnover. It develops production lines based on water jet cutting.
Today, Suteau-Anver has :
A workforce of on average 60 employees with dedicated teams working in Sales – Design Department – Manufacturing – Assembly – Installation –ASS present in France and export markets
Premises covering a total of 8,000m2
A spare parts store which stocks 20,000 products worth a total of €650,000
Skills, expertise and competency that are held in particularly high regard in its own areas of business: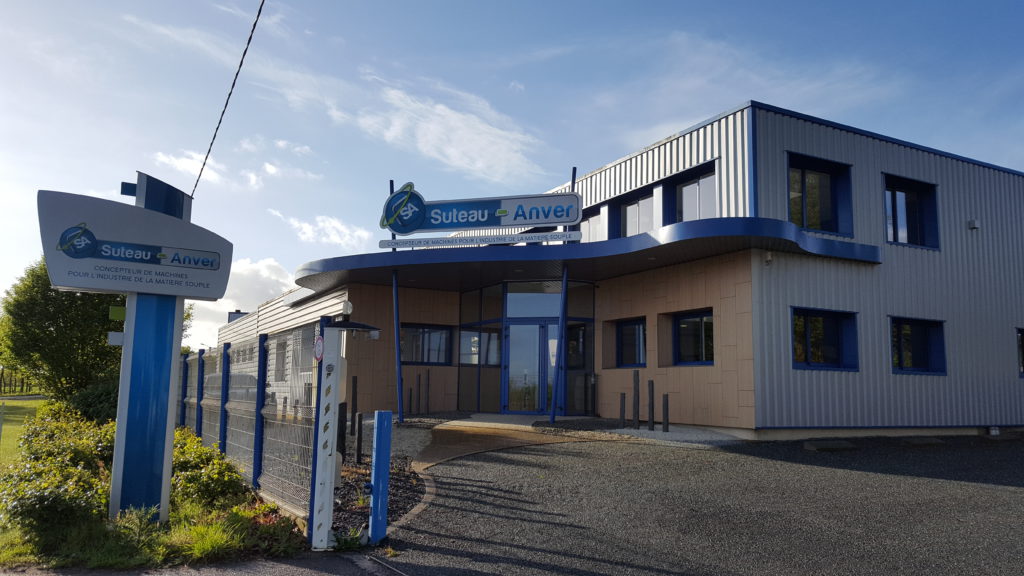 1 – Design and Manufacturing (hydraulic and mechanical cutting presses for multi-disciplinary industry sectors working with composite and flexible materials; specialist machines with various environments; machines for the leather industry including footwear and leather goods; gluing machines; conveyor systems; water jet cutting machines, etc.
2 – Distribution (oscillating knife cutting tables)
3 – Trading machines from leading European manufacturers
To offer our customers the very best services and solutions, Suteau-Anver is always available to discuss your project and your requirements as we constantly strive to innovate and expand export growth.
Areas of Business
The design and manufacture of hydraulic and mechanical cutting presses for industries working with flexible materials, composite and technical textiles (fitted carpeting, foam, gaskets, rubber, cardboard, leather, textiles, composites, carbon, Kevlar, floor coverings, fibreglass fabric, etc.)
The design and manufacture of conveyor systems for our machines (spooling and unspooling machines, roller or clamp conveyor systems, palletisers/ depalletisers, etc.)
The design and manufacture of gluing machines, guillotines and rotary diecutting for industries that work with flexible materials and composite and technical textiles (fitted carpeting, foam, gaskets, rubber, cardboard, leather, textiles, composites, carbon, Kevlar, floor coverings, fibreglass fabric, etc.)
We distribute oscillating knife cutting tables for industries that work with flexible materials and composite and technical textiles (fitted carpeting, foam, gaskets, rubber, cardboard, leather, textiles, composites, carbon, Kevlar, floor coverings, fibreglass fabric, etc) up to 120 mm thickness (various formats)
The design and manufacture of specialist machines with various environments
The design and manufacture of machines for the leather goods and footwear industry (shaping, skiving and splitting machines)
The design and manufacture of water jet cutting machines for the food processing industry (OAT – a 100% Suteau-Anver subsidiary)
We trade a range of machinery from leading European manufacturers
Few figures
Creation : 1947
Capital of 1 000 000 euros
Staff : 60 people
Total area of the offices : 8000 m2
APE : 2894 Z
RCS Angers 93 B 592
Siret 392 574 406 00014
TVA FR 58 392 574 4065