Swing arm cutting press ; Clicker press ; Clicking press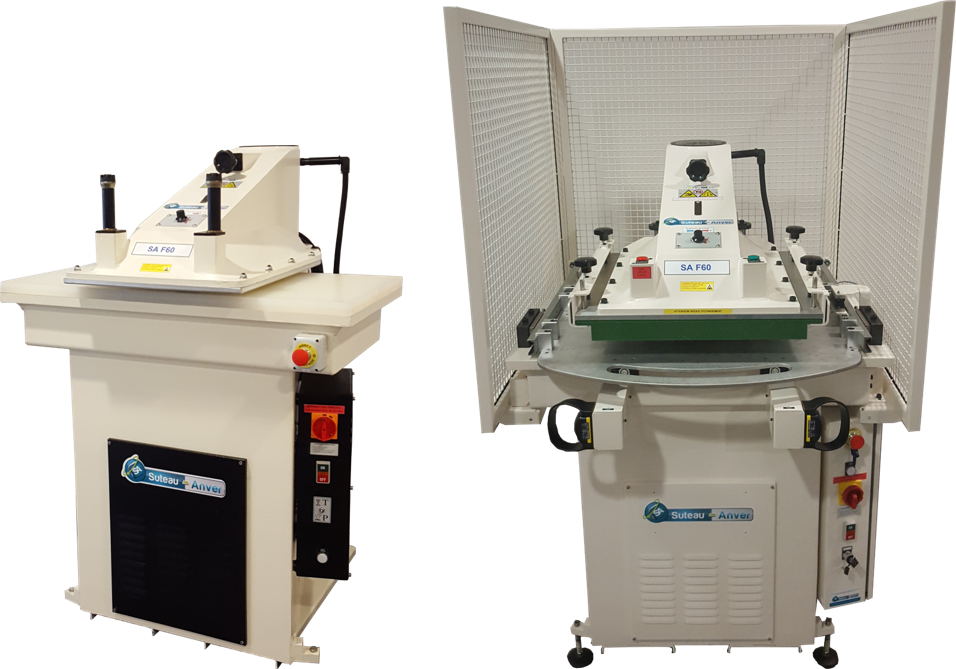 This standard swing arm press is part of SUTEAU-ANVER's wide range of cutting presses. With a simple but sturdy design it is intended for cutting soft materials in one or more thicknesses.
The clicker press may be used for many fields of application :
Paper
Textiles
Leather
Gasket
Foam materials
Plastics
Carpet
Wood
Felt
Rubber
Etc..
Easy to use, this is a basic machine for your production workshop.
Technical features
SA F35
Maximum cutting power: 12 tons
Daylight: 55 mm
Stroke of the arm: 90 mm
Cutting area: 330 x 300 mm
Dimensions of the table supplied with block: 600 x 300 mm
SA F60
Maximum cutting power: 27 tons
Daylight: 110 mm
Stroke of the arm: 100 mm
Cutting area: 500 x 500 mm
Dimensions of the table supplied with block: 1000 x 500 m
2 Cutting modes
Mode P:  automatically controls the cutting point whatever the height of the dies
Mode T: controls the time taken by the swing beam to come down
For both modes, the cutting power can be adjusted using a potentiometer
Options
Holding system for the beam once the power has been switched off
External guards
Block underneath the swing beam
Introduction table
Allen Bradley type sensitive control
Available versions
Available in an EC standard / NON EC standard / Single phase or three phase version.
Machines dimensions
SA F35
Height: 1370 mm
Width: 750 mm
Depth: 810 mm
Net weight: 450 kg
SA F60
Height: 1370 mm
Width: 1000 mm
Depth: 1000 mm
Net weight: 840 kg