Thermoforming beam press – Model VFS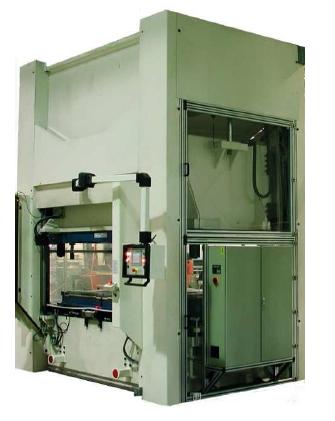 This thermoforming beam press is the top of SUTEAU-ANVER's range of presses, setting the benchmark in the industry internationally.
Designed and manufactured by SUTEAU-ANVER, this press is sturdy, accurate, silent and specially developed for thermoforming and cutting all non-metalic materials ; its integrated hydraulic system makes it both highly efficient and productive.
Designed for mass production, your materials can be thermoform and cut into rolls or sheets.
Made in a modern and innovative designing, the structure is made up of one fixed table and one fixed upper beam assembled to 4 vertical uprights. The movable beam is assembled to the upper beam by one hydraulic central cylinder which ensures the rising and the descent of this one. The beam guide is ensured on his 4 corners by celoron in contact with the 4 vertical uprights. This machine is designed to run with a cutting strain symmetrical in relation to the central cutting area.
The cutting bottom point is given by 4 mechanical stops. The adjustment of this stops according to the cutting die height is automatic and made during an adjustment phase. This stops are motorised by a moto-reducer and an electronic speed variator. After the adjustment phase, it's possible since the control screen to correct the position of the cutting point with an accuracy of 0,01 mm. The 4 mechanical posi-stops are integrated to the fixed table. On option, an air spray system allow to avoid the pollution risk of the upper side of the stops.
The stop point in upper position is also adjustable according the requested way between the top of the material and the die blades. The adjustment can be made at all time with the control screen. The position is checked by a linear potentiometer with an accuracy of +/- 5 mm.
In order to ensure the safety of the operator during intervention under the movable beam, it's possible to lock in hydraulic way the movable beam in upper position. This locking is automatic during the machine stop or during a die changing.
Technical features
| | |
| --- | --- |
| Electric energy : | 400 Volts threephase + Neutral + Earth 50 hz |
| Power : | 12 KW to 40 KW according to the versions |
| Pneumatic energy : | Dry air 6 Bars |
| Cutting table width : | Further your needs |
| Cutting table depth : | Further your needs |
| Closing power : | 100 tons to 500 tons |
| Pressure maintening time : | Adjustable from 1 to 250 secondes |
| Flatness tolerance : | + or – 0,1 mm/m  (fixed down plate and upper movable) |
| Quick descent speed : | Adjustable from 50 to 270 mm/s |
| Low descent speed : | Adjustable from 5 to 20 mm/s |
| Opening speed : | Adjustable from 50 to 270 mm/s |
| Adjustable stroke : | 20 to 1000 mm (other strokes on request) |
| Daylight between table and beam (without die) : | 1000 mm (other daylight on request) |
| Height of the work surface : | 800 mm |
Options
Same as range VFS STANDARD
Cooler unit for oil
Hydraulic die clamping on upper and lower sides
Available versions