Machine to apply accessories / riveting / crimping / perforating – Model PMC 160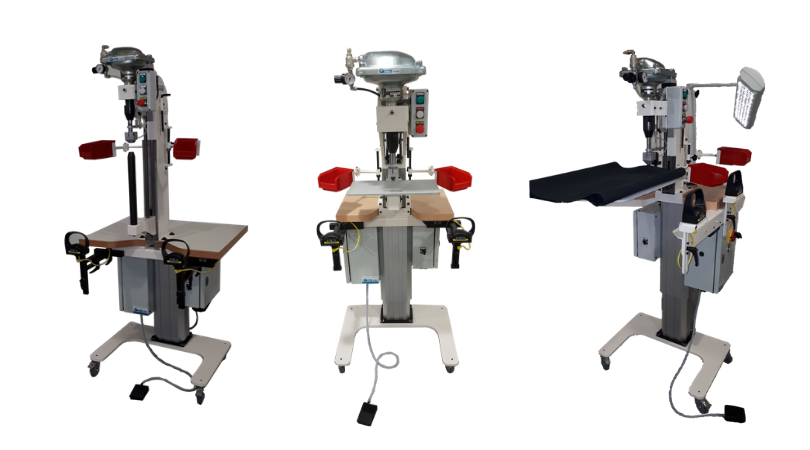 This machine is designed and manufactued by SUTEAU-ANVER specially realized for leather goods industry.
Its developpement has integrated the strenght of materials and ability to ensure a crinping always identic, ergonomics, safety and confort for your operators.
Its versatility enables it to perform a wide variety of operations necessary for assembling the components of a bag, or luggage.
Perforating of various holes from 1,2 mm to 17 mm for eyelettings
Pointing to see markers before assembly
Accessories applying for leather goods (loops, eyelets, rivets, locks, logo etc. )
Plates riveting "Brand manufacturer".
These operations will be prepared in our factory by our technicians dedicated to the leather goods, and delivered "turnkey" with tools and tested with your pieces before shipment.
The machine is manufactured with modules that you choose to get your final machine
PMC 160 – 600 Kgs or 1000 Kgs.
4 anvils type, straight or FAG in 600 or 1000 Kgs.
4 frames type : welded / GWS / fixed / electric.
Technical features
Electric energy : 220 volts + Earth 50 hz
Pneumatic energy : 8 bars
Height of the working area : from 850 to 1150 mm
Power : 600 Kgs and 1000 Kgs
Machine on castors
Options
Then, options are added to customize your working tool according to the operation you realize :
Touch control type ALLEN BRADLEY
Red totes for accessories
Totes support
Double storage shelves
Waldman lighting
Confort plug 220 Volts
Strain gauge for measuring the crimping force