Hydraulic sole attaching press – Models 600-2 / 600-4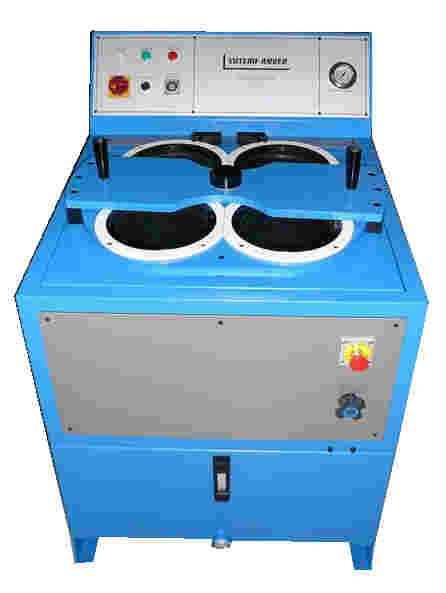 Designed and manufactured by SUTEAU-ANVER, this model of sole attaching press with 2 or 4 stations is specially studied for tennis, bare foot shoes, basket-ball shoes, after-skis and all shoes featuring a coating.
Single hydraulic press of this design, it allows to obtain an adjustable pressure from 2 to 12 Kgs instantly reached and divided on all angles and without any deformation whatever the soles edge height.
Technical features
Fitted with 2 or 4 rubber bags Ø 220 mm or other diameter further model
Regulating of the hydraulic pressure and holding time
Production up to 1200 pairs in 8 Hours
Height : 1150 mm
Length : 950 mm
Width : 850 mm
Weight : 450 Kgs
Electric supply : 220/380 Volts 3 phases + earth + neutral 50 Hz
Ligne power : 5500 Watt
Options
2 or 4 stations
Different diameter of rubber bags
A wide range of spare parts is also available and in stock.
Don't hesitate to contact our spare parts department to the following email : achats@suteau-anver.com
Available versions