Flat gluing robot, double trays – Model SA 157 ASP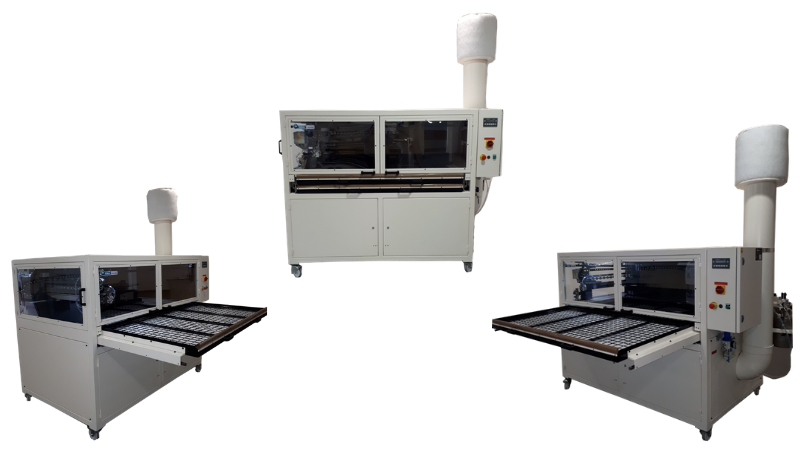 This gluing robot manufactured by SUTEAU-ANVER is specially designed for gluing and drying automatically new generations of aqueous adhesives used for welding soft materials (leather, synthetic, etc)
Its strongs points :
A steady, uniform gluing
Very simple to used allowing high productivity
Glue adjustments accessible allowing stops operations, cleaning or glue filling
2 working areas (1500×700) can display the glued parts and prepare a new loading while on the other table gluing and drying operations are realized.
Automatic control of the spraying height according to the table used.
This flat gluing robot has also:
Gluing length adjustable by detection cell
Automatic spray gun powered by a glue tank under pressure.
Drying time fan accelerator
Suction tank rising to press perfectly to the tray during the gluing operation
Dust recovery filter
Grids holder for teflon and removable parts
Box protected by a bond breaker treatment and fitted with an access door for cleaning
Glue tank in INOX steel (10 liters)
Business fields :
Synthetic
Textile
Leather
Foams
Plastics
Felt
Etc.
Technical features
2 working areas of 1500×700 mm (other size on request)
Dimensions : 2100 x 1180 x 1540 mm
Programming display of the gluing areas
Electric power : 0,6 Kw
Pneumatic pressure : 6 bars
Options
Lighting
Elevation
Under pressure tank on removable rail
Available versions