Automatic coloring bench/vice – Model SA 200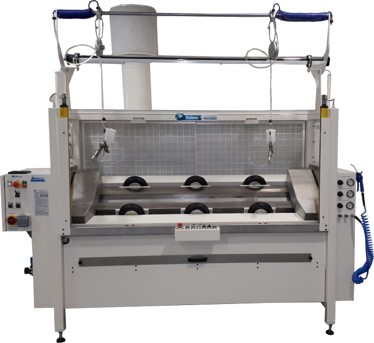 This coloring bench manufactured by SUTEAU-ANVER is designed to carry out the various finishing operations for belts and shoulder straps. It allows to make your operations successively with a homogeneous and regular finishing. The station is compact and includes various means necessary to finishing operations.
Technical features
Coloring rotating bench with pneumatic horizontal claming by 6 flat cylinders
Parts support stop by foldaway table
Useful width 1450 mm, maxi opening 125 mm
Clamping control by bimanual and pressure regulator
Rotation by gearmotor with BT front rear
Cells barrier 700 mm
One centrifugal fan 4000 m3/H with speed inverter
Fitted with 2 extractables filters of 900 x 800 mm, air deflector in upper part
Jaws locking system by racks with safety guards
Size 2350 x 1200 x 1800 mm
Options
Lighting 1600 mm
Electric elevation by 4 columns + safety with cable
Cartridge-type drawer with filter at the output of VSB30
3 Exit with quick plugs and adjustment manometer in right part
Drying system with diffuser and movable support
The set is provided to be located on the front bar, on the right or on the left side
Power plug on the front side
Brush support (elbow stick with balancer and complete brush)
A wide range of spare parts is available and in stock.
Don't hesitate to contact our spare parts department to the following email : achats@suteau-anver.com
Available versions