Beating pneumatic machine on table – Model RIB 04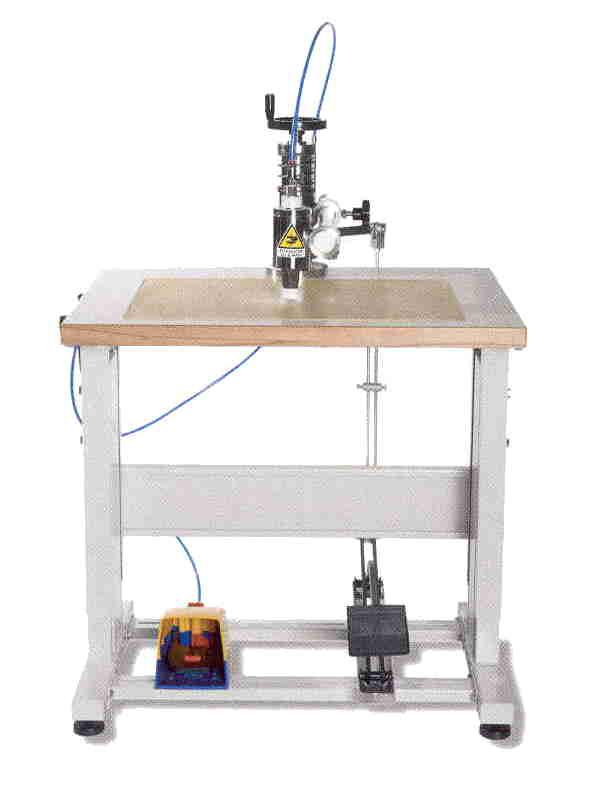 The company ALOISI is a privileged partner for several decades.
SUTEAU-ANVER, distributor of ALOISI equipments including the pneumatic beating machine model RIB04 above, is able to advice you on the choice and options of these machines, to provide you the complete range and ensure you a setting on production customized by technicians trained to your trade.
Our supplier is specialized in manufacturing pneumatic beaters for leather and marble industry. The excellent quality of ALOISI products is guaranteed by an accurate processing of each piece of the beaters which are assembled by specialized technicians.
Technical features
The machine is mainly composed of one pneumatic beater model G98V, fixed on a unit holder beater adjustable, sliding and manually rotary. The unit is fixed on one table and the frame can be adjusted in height.
Available versions
Version RIB 04/2006 :
Machine on wooden table
fit with one beater model G98V
rotary pneumatic control device of the arm
Version RIB 04/2011 :
Machine on wooden table for marble holder
fit with one beater model G98V
rotary pneumatic control device of the arm
2 treadles fit on rails for opening and forward/backward adjustment
pneumatic descent of the beater, this one will vibrate only on lower position