Cutting table with oscillating knife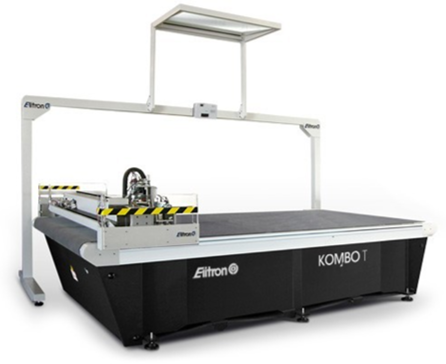 This cutting table fits with SUTEAU-ANVER's range of cutting presses.
Designed for cutting single thickness soft and semi-rigid materials into formats, rolls and sheets.
Fields of application : leather, textiles, felt, rubber, cardboard, gaskets, carpet, graphite, foam and synthetic materials, etc.
Model KOMBO 3120 TC – CNC Cutting table
CNC cutting table that operates using windows with an endless belt.
Movements conveyed by pinion/rack
The cutting head has: 1 pneumatic oscillating blade, 1 5 mm diameter rotating punching unit and 1 pen
3100×2000 mm working area
Suction system to keep the material in place per sector – 7.5 KW pump power
Z axis controlled up to a height of 50 mm
Maximum speed 55 m/mn
DOMINO software so that the parts to be cut are interactively positioned and automatically laid out.
DIALOGO data acquisiton software either from a digit table or from importing standard format CAD systems that include all the functions to optimise cutting.
Model KOMBO 2016 T- CNC Cutting table

CNC cutting table that operates using windows.
Movements conveyed by pinion/rack
The cutting head has: 1 pneumatic oscillating blade, 1 pen – 1 rotating punching unit
Working area 2000×1600 mm
Suction system to keep the material in place per sector – 7.5 KW pump power
Z axis controlled up to a height of 20 mm
Maximum speed 65 m/mn
DOMINO software so that the parts to be cut are interactively positioned and automatically laid out.
DIALOGO data acquisiton software either from a digit table or from importing standard format CAD systems that include all the functions to optimise cutting.
Machine training included
Model SPARK – CNC Cutting table with flexible conveyor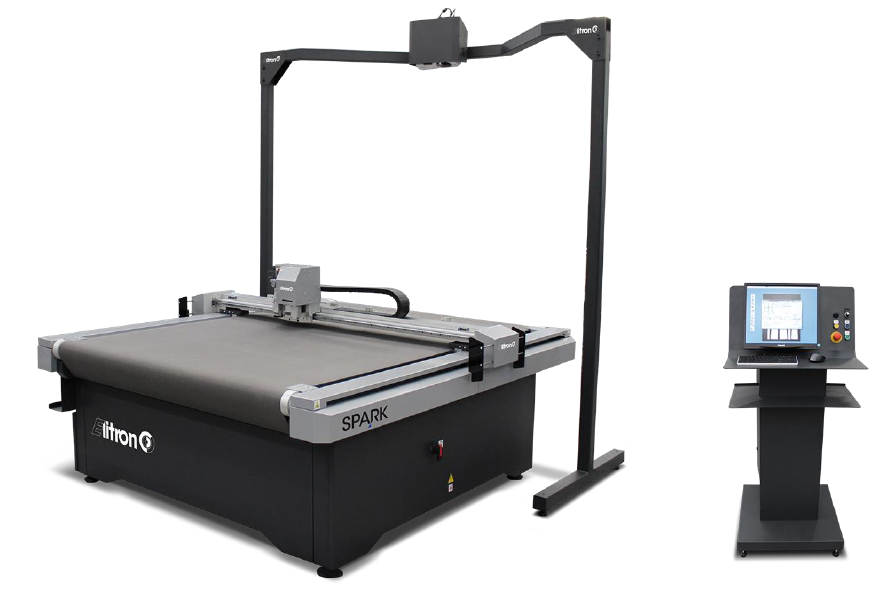 Multi-tool head to cut and crease materials up to 25 mm
Integrated Seeker System to automatically recognise printed images and reference marks
Possibility to work different materials during the session, without changing tools
Speed up to 80 m/ min, accelation 1G
Video projection system (optional) to optimize material yield, and re-use otherwise waste materials
Working area (1900 x 1600 mm) divided into powerful concentrated vacuum sectors, for maximum material hold on the working surface
Technical features
Available versions